Samples
Published weekly and consisting of 10 pages, our newsletter is clear and concise. We understand that you're busy and already overwhelmed by financial information, so we get right to the point.

Each issue briefly discusses what moved the market over the past week and provides succinct US stock market analysis, market index charts, market data, model portfolio recommendations, buy/sell status of18 different timing models, timing model charts, and a list of top monitored funds in all the categories that correspond with our timing models - including special categories for Direxion, Fidelity, ProFunds, Rydex and Vanguard funds.

We don't require you to subscribe to multiple in-house publications to get all our valuable trading tools, like many of our competitors do. Instead, we offer all our strategies and recommendations in a single, packed newsletter.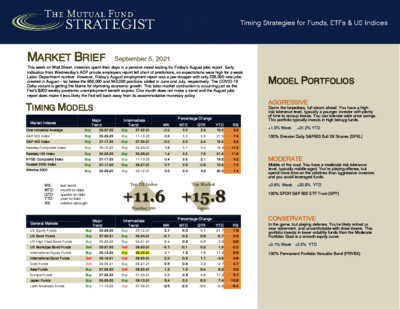 To view a sample issue please type your email address below and we'll email one to you once you have confirmed your email address.
Please set your email filter to accept messages from:
contact@mutualfundstrategist.com
Issues are posted to our web site on Sundays in Adobe's Portable Document Format (PDF). Subscribers are emailed a private link to the newsletter. If you don't already have the Adobe Reader software installed on your computer, download it for free from Adobe's web site. If you experience difficulty with Adobe Reader's installation, please visit Adobe's technical support web site.

Frequent Updates Between Newsletters
Our "hotlines" keep subscribers up-to-date with model portfolio and timing model changes between newsletters. Hotlines are emailed on an as-needed basis by 11 pm Eastern time. (The term "hotline" is a throwback to the days before the Internet when subscribers needed to make daily phone calls to our telephone hotline for updates.)